GO Type Straightener Cum Decoiler For Sheet Thickness: 0.4mm~2.5mm
Uncoiler/sraightener machine
Save space
High precision
Product Description
Uncoiler & Leveler
Feature
1、The decoiler is integrated with straightener, covering a small area, easy to operate.
2、Suitable for various metal material thickness in 0.4-2.5mm
3、Adopt the whole steel frame body, which has the advantages of strong structure, stable operation, less occupation and save space.
4、The roller is made of solid bearing steel, heat treatment HRC60, and then grinding after hard chromium plating, with strong durability.
5、The tension of brake device can be adjusted to make the roll running more smoothly and increase the load capacity.
6、Electronic control adopts imported electromagnetic contactor and electronic components, with few faults and long using life.
7、Hydraulic expansion is optional, suggested for the heavy material.
Structure: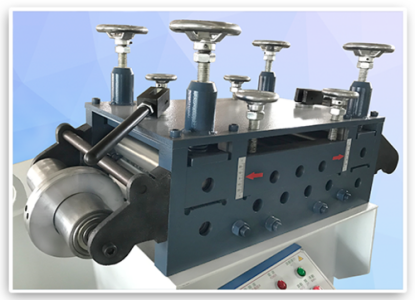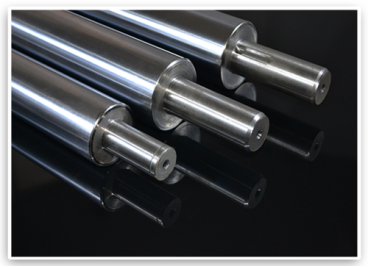 ·Straightener head
1. Adopt parallel roller design, 3 up / 4 down, totally 7 rollers.
2. Adopt four point fine adjustment is adopted, which is more suitable for processing high-precision products. Adopt four point independent pressure to adjust the pressure of feeding roller for entrance and exit, which can prevent material deviation and deformation effectively.
3. The supporting roller adopts the galvanizing roller without power, the material is one body formed, the surface is scratch-resistant and wear-resistant, use the mechanical bearing, rotating flexible and durable.
4. Handwheel made of cast iron, surface is electroplated. It is the most traditional handwheel.
5. The transmission part is protected by protective cover on both sides, equipped with observation window for easy viewing
.
Straightening roller
1. The straightening rollers are made of solid bearing steel, thickening plating treatment after medium frequency, surface hardness is not less than HRC58, to ensure material durability.
2. Adopt GCr15 forging round steel, after preheating treatment (spheroidal annealing), then turning, milling, intermediate frequency treatment, rough grinding and cold stabilization, then fine grinding, finally electroplating. Maximized guarantee the accuracy, concentricity, finish and hardness, and extended the using life of the rollers.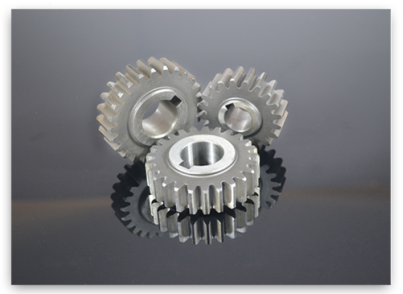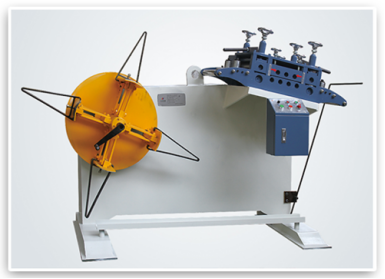 ·Drive gear
Gear processing includes the following processes: gear blank processing - gear surface machining - heat treatment - gear surface fine grinding. Rough parts are mainly forging parts. Through normalizing treatment, improve the machining to facilitate cutting. According to the gear design drawings, rough machining, and then semi-finishing processing, turning, rolling, gear shaping, to make the gear basically formed. After the heat treatment to improve the mechanical properties. According to the design requirements of the drawings, finally do the finishing, finishing the benchmark, finishing the tooth profile. After all above treatments, our gear grade can reach to grade 6, with high wear resistance, high strength, long using life.
·Frame part
1. The equipment adopts the integrated design of decoiler and straightener, to improve the utilization rate of the site.
2. Decoiler adopt cantilever beam design, all plates of the decoiler are cut by laser plasma with high precision.
3. All parts are processed by numerical control and CNC, with good interchangeability.
4. The overall structure is simple, it is convenient for general technical workers to assemble and replace, can greatly reduces the maintenance cost.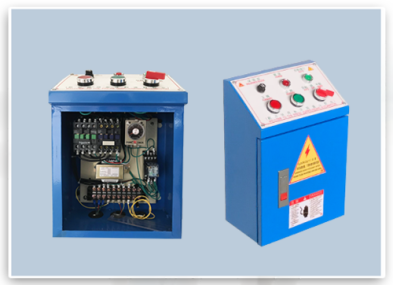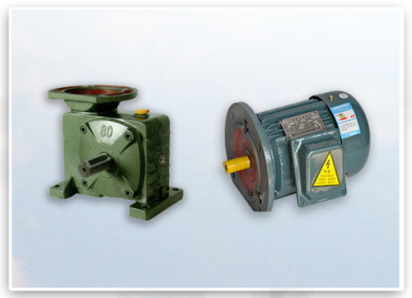 ·Electric control box
1. Adopt silver alloy relay, full copper coil, flame retardant safety base, long lasting and durable.
2. Adopt safety protection adjustment circuit time delay relay, silver alloy contact, satisfied different delay ranges.
3. The switch adopts sliding contact ,with self-cleaning function , normally open and normally closed contact adopts separate bonding structure, can work with different poles, equipped with anti-rotation positioning and stop loose mounting gasket.
4. Adopt self-duplex flat button, the force is light, the key range is moderate, the building block type combination structure. The contact is made up of keto-base composite points with strong conductivity and large current, with a life span of up to 1 million times.
·Power part
1. Adopt model 80 worm gear vertical reducer, use the speed converter of gear , reduce the rotation number of motor to desired rotation number ,and get the mechanism with larger torque.
2. Adopt vertical motor, low vibration, low noise, stator rotor part adopt pure copper coil, life is 10 times of ordinary coil, both ends are equipped with ball bearing, low friction, low temperature.
·Specification
Model

GO-150

GO-200

GO-300

GO-400

GO-500

Material width

150mm

200mm

300mm

400mm

500mm

Material thickness

0.4~2.5mm

Coil inner dia.

450~530mm

Coil outer dia.

1200mm

Coil weight

500kg

800kg

1000kg

1500kg

2000kg

Expand type

Manual expansion

Motor

1/2hp

1hp

2hp

2hp

3hp
Straightening capacity
| | | | | | |
| --- | --- | --- | --- | --- | --- |
| Thickness \ model | GO-150 | GO-200 | GO-300 | GO-400 | GO-500 |
| 1.5 | 150 | 200 | 300 | 400 | 500 |
| 2.0 | 150 | 200 | 300 | 400 | 400 |
| 2.5 | 120 | 160 | 240 | 320 | 250 |

GO Technical Parameter.PDF