NCF-P Type Zigzag Servo Roll Feeder For Sheet Thickness: 0.6~3.5mm
Apply manufacturing line of producing the round shape, bract angle shape, and polygon shape part
Solve the saving cost problem
High Productivity
Product Description
ZIG ZAG Servo Roll Feeder
Zigzag feeder is mainly for the metal sheet automatic shift feeder is for the wafer sub-material production line, cost-saving efficiency designed to produce, high output, high efficiency, high precision, low energy consumption, fully automated control, the feeder's flat work roller can correct the material arc, so that the material can smoothly pass through the mold, Guarantee the flatness of the disc and avoid waste of material

Application for zigzag feeder
1. Acceptable material thickness: 0.3-3.0mm, width: 1800mm, the diameter of the wafer is 1000mm.
2. Applicable to products are widely used in hardware, stamping, electronics, electrical appliances, science and technology, auto parts, metals, packaging, industry, aviation, cabinets, machinery, electrical, mechanical and other industries.
3. Suitable for belt steel, aluminum, copper, stainless steel, iron and other materials.

Features
1. High output: can be shifted multiple times, according to the 60-degree angle calculation, each shift can save 7% of the material, in the size of the wafer, can be adjusted according to the width of the material arrangement angle, to provide material utilization rate.
2. High efficiency: the speed is 60 times per minute.
3. High precision: in the continuous stamping process, the distance between the edge and edge can be set within 0.5mm, each movement error can be guaranteed within the range of .08mm.
4. Small footprint, low energy consumption
5. Finished work handling is convenient: after the material stamping, automatically dropped on the finished conveyor belt, from the conveyor belt to the palletizer. 6, fully automated control, saving human resources: the production line in the work, only one employee to operate the electronic control box control cabinet. Enter the operating procedure on the human panel and the equipment will be fully automated.

Description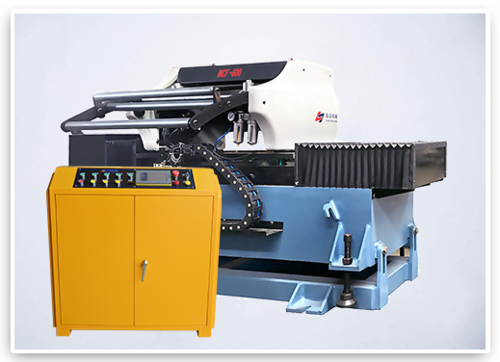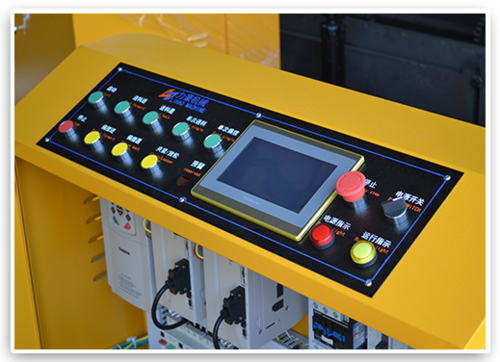 ·Structure
Equipment is made of by the feed head, fixed frame, control box , the overall structure is compact. Small footprint, rack using high-strength gambling party pass and plate made of stable structure, smooth operation. Rack height up and down adjustable 150 to 200mm (can be made according to the actual situation), a wide range of applications Applies reinforced nylon chain, better than ordinary chain toughness, not easy to appear at the connection shedding, breaking.
·Electrical control box
1. Applies alloy relay, all-copper coil, flame retardant safety base, long-lasting durable.
2. Applies safety protection adjustment circuit delay relay, silver alloy contacts, a variety of and degrees disk, Meet different delay ranges.
3. The switch uses sliding contact, with self-cleaning function, often open and normally closed contact using points. The structure of the opening edge, which can be worked at the edge, is equipped with anti-rotation positioning and anti-loose mounting gaskets.
4. Applies self-duplex flat button button, light force, moderate key stroke, building block combination structure. The contact uses ketone-based composite point, which has a high conductive and high carrying current and has a life of 1 million times.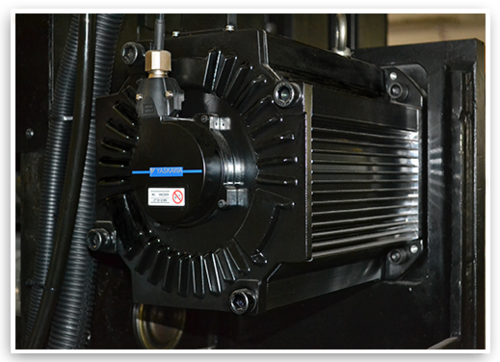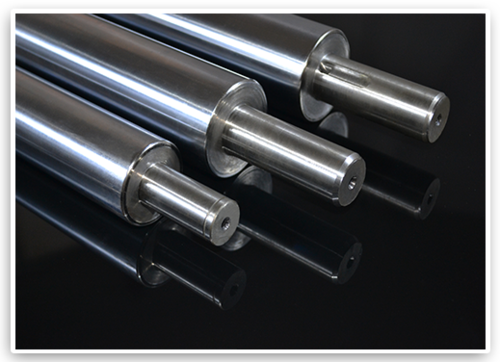 ·Servo motor
Using a dual servo motor to distinguish the control head and the machine's swing action, Servo motors and drives are made of the Angawa brand (optional) to significantly improve equipment performance. Maximize device performance, solve problems, Anchuan electric original "no-adjustment function"
Further deepening, without the need for tedious tuning, the movement is stable, and can be made in harsh environments
Energy-efficient, compliant with safety standards, visualization.
·Feeding roller wheel
1. Leveling wheels are made of solid bearing steel, medium frequency after thickening electroplating treatment, surface hardness is not lower than HRC58 ensures that the material is durable.
2. Applies GCr15 forging round steel, passed the preheating treatment (balling annealing), then car, milling, After medium frequency treatment, coarse grinding cold stabilization, then fine grinding, and finally electroplating. Maximum assurance
Precision, concentricity, finish and hardness, extend the service life of the corrective roller.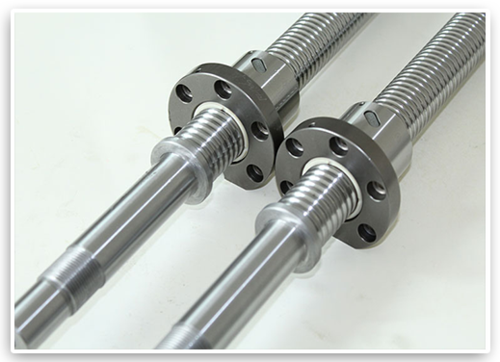 ·Ball screw
Applies high-quality high-carbon steel with chrome on the surface, strong wear and performance for more stable performance groove shape, even if the shaft direction gap is adjusted to a very small, it can still be easily moved
By using ball movement, small aerodynamic steam, no creeping phenomenon of sliding motion High precision, high-strength bearing steel, high-precision positioning, long service life.
Specification
Type

NCF-200P
NCF-400P
NCF-600P
NCF-800P
NCF-1000P

Max.Material width

200mm

400mm

600mm

800mm

1000mm

Material thickness

0.6-3.5mm

Width.thickness(mm)

200*2.0

180*2.5

150*3.0

120*3.5

400*2.0

380*2.5

300*3.0

250*3.5

600*2.0

460*2.5

380*3.0

320*3.5

800*2.0

480*2.5

450*3.0

380*3.5

1000*1.0

650*2.5

550*3.0

450*3.5

Feed length

0.1-9999.99mm

Max.Feed speed

20m/min

L to R Displacement

± 100

± 200

± 300

± 400

± 500

Roll Pressure

Spring Type

Releasing System

Pneumatic Type

Pass Line Height

Custom

Power Supply

AC 380V/3 Phase

Feeding & Displacement Driven method

Servo Motor