New Type NC Servo Roll Feeder Releasing System: Pneumatic Type Thickness: 0.2~2.5mm
Unique Japanese technology design
Reliability & rigid structure
High precision & durability
High Productivity
Product Description
New Type NC Servo Roll Feeder
Features:
1.Suitable for different thickenss, length of material for feeding processing.
2.Suitable for high speed and lenth feed, improve productivity and feed accuracy.
3.Simple operation panel, with the feeding length and feeding speed of the key word, the operator can be arbitrarity set, quickly and accurately, feeding length 0.1mm-9999.99mm.
4.Pneumatic relaxation (relax point accurate), length-term use, low failure rate.
5.High-quality, brushless servo motor drive, effectively shorten the delivery, adjustment and testing of the time.
6.The use of a high degress of decoder, feedback accurate, feeding accuracy.
7.With synchronous belt transmission, can eliminate the gear clearance, little abrasion, no noise, no lubrication, safety and environmental protection.
8.Motor built-in, to avoid handling and decoration damaged.
Structure
1. It adopts high-quality and brushless servo motor drive to efficiently shorten the time for delivery,adjustment and test time.
2. It adopts high-sensitivity decoder to ensure back-feeding accuracy and improve feeding accuracy.
3. It equipped with synchronous belt drive that can eliminate the gear gap and guarantee low abrasion ,noiseless,free of lubrication,security and environmental protection.
4. Motor is internally installed so as to avoid possible damages during transportation and loading.
Product Description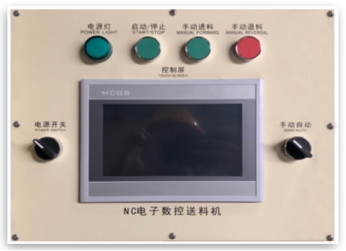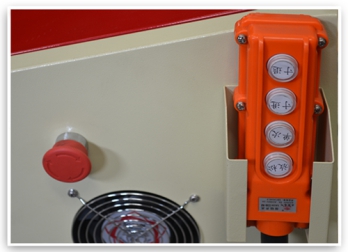 ·Control panel
1. The human-machine interface adopts Taiwan PanelMaster 's 7-inch high-definition large screen with uniform color and fine texture.It is used in most industrial environments,supports serial port and network communication synchronously and has high reliability.
2. The switch adopts sliding contact with self-cleaning function. Normal closed and normal open contacts use separate knot structure, which can work at different poles, with anti-rotation positioning and loose mounting gasket.
3. It uses self-resetting flat button, which is light in weight, moderate in key stroke and adopts modular structure. The contact adopts a ketone-based composite point, which has strong electrical conductivity and large carrying current, and its life span is 1 million times.
·Operating handle
1. The electric control box has a separate operation box , which is convenient to change position and save time. And it is water-proof and dust-proof, with high material strength, good electrical conductivity and long service life.
2. The electric control box is equipped with an emergency stop button, which is safe and reliable, and effectively reduces the opening and closing of the electric control box and protects the operation panel.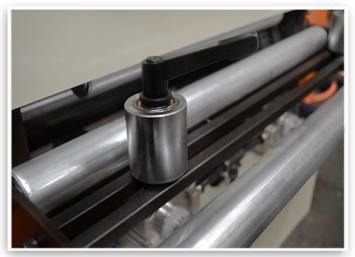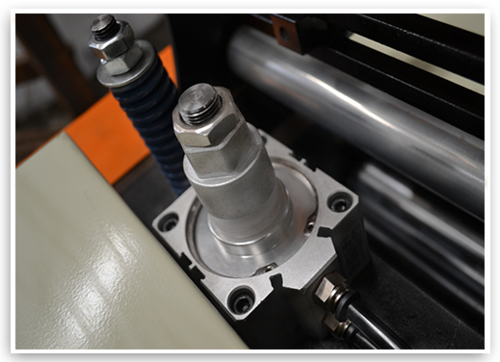 ·Feed roller, retaining wheel
1. The feeding roller adopts unpowered galvanized roller, which is integrally formed. Its surface is scratch-resistant and wear-resistant, and it uses mechanical bearing, flexible in rotation and durable in use.
2. The feed retaining wheel is plated with hard chrome, quenched hard chrome HRC60, and the locking handle has strong locking force.The locking is convenient and the roller rolls smoothly.
·Feed cylinder
It adopts genuine AirTAC cylinder, alloy cylinder, hard oxidation, riveting without leaking.It uses solid aluminum for CNC precision machining. And the inner wall is smooth and not stuck.Therefore it has high working efficiency, high strength operation and durability that is suitable for various working conditions.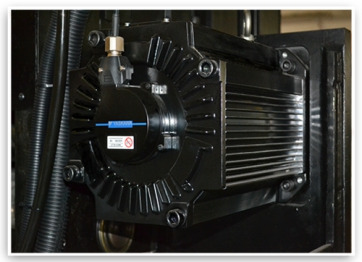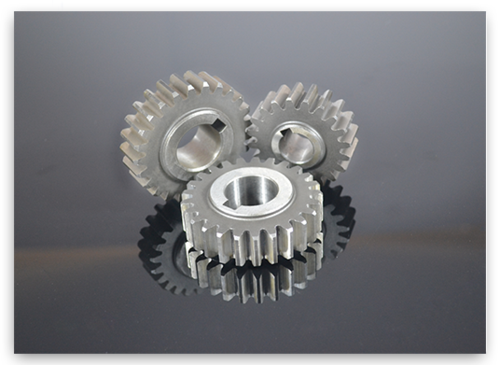 ·Servo motor
Both the servo motor and the driver use the Yaskawa brand (optional) to greatly improve the performance of the device and maximize device performance and solve problems.
Yaskawa's original "free adjustment function" is further deepened. There is no need for tedious tuning work and its operation is stable. It can be used in harsh environments and is energy-saving, and meets safety standards for visualization.
·Transmission gear
The gear processing process includes the following processes: gear grinding processing - tooth surface processing - heat treatment- tooth surface finish grinding. The hair cultivating parts are mainly used for forging, and the normalizing treatment is carried out to improve the cutting.
The gears are designed according to the drawings, followed by roughing, and then semi-finishing, car, rolling, and gear shaping, so that the gears are basically formed;then heat treatment is performed to improve the mechanical properties. According to the design requirements of the drawings, the final finishing, finishing the benchmark, finishing the tooth type. After the above treatment, our gear grade can reach 6 grades, high wear resistance, high strength and long service life.
Specification table:
| | | |
| --- | --- | --- |
| Model | Material thickness | Material width |
| NC-200 | 2.5mm | 200mm |
| NC-300 | 2.5mm | 300mm |
| NC-400 | 2.5mm | 400mm |
| NC-500 | 2.5mm | 500mm |
| | | |
| --- | --- | --- |
| Model | Material thickness | Material width |
| NC-200A | 3.2mm | 200mm |
| NC-300A | 3.2mm | 300mm |
| NC-400A | 3.2mm | 400mm |
| NC-500A | 3.2mm | 500mm |
Configuration table:
Name

Brand

Model

Bearing

HRB、ZWZ

6206、6207

Servo motor

Zhejiang Dongling

1.5kw

HMI

Paneimaster

SA2070

PLC

Mitsubishi

FXIS-14MT

Electromagnetic valve

Guangdong Punan

4V310-10

Cylinder

AirTAC

SDA-60*10-N

Transformer

Dongguan Jinhuan Long

2KVA

Proximity switch

Meanwell

SN04-N

Switch

Meanwell

50W

Relay

Omron

MT2

Main switch, Contactor,

Push button switch, Indicator light, Insurance

CHNT

-