NCF Type NC Servo Roll Feeder For Sheet Thickness: 0.6mm~3.5mm, Pneumatic Release System
Unique Japanese technology design
Reliability & rigid structure
High precision & durability
High productivity
Product Description
NC Servo Roll Feeder
Feature:
1. NCF roller feeder is suitable for material feeding with different thickness and length.
2. NCF roller feeder is suitable for high speed and long size feeding to improve productivity and feeding accuracy.
3. NCF roller feeder simple operation panel, with feeding length and feeding speed of the key number code, the operator can be arbitrary Settings, rapid and accurate, feeding length from 0.1mm - 9999.99mm.
4. NCF roller feeder adopts air pressure type relaxation (accurate relaxation point), which can be used for a long time with zero fault.
5. NCF roller feeder can be reformed into mechanical relaxation mode according to customer requirements NC.
6. NCF roller feeder with the best general performance of a model, free in the cylinder press and spring press replacement.
Structure:
1. NCF roller feeder USES high quality, brushless servo motor drive, effectively shorten the feeding distance adjustment and testing time.
2. NCF roller feeder USES high sensitivity decoder, precise insemination and higher feeding accuracy.
3. NCF roller feeder with timing belt transmission, can eliminate gear gap, wear, no noise, no lubrication, safety and environmental protection.
4. Motor internal device can avoid damage during handling and loading and unloading.
5. NCF roller feeder 600 times under the best cost-effective feeder.
Product Description: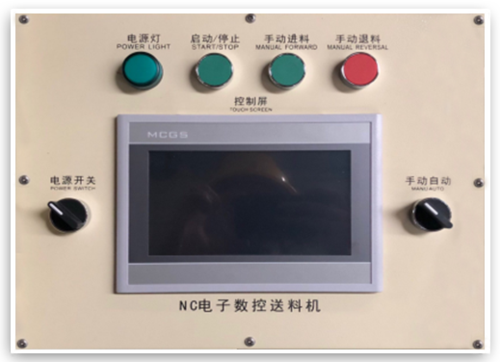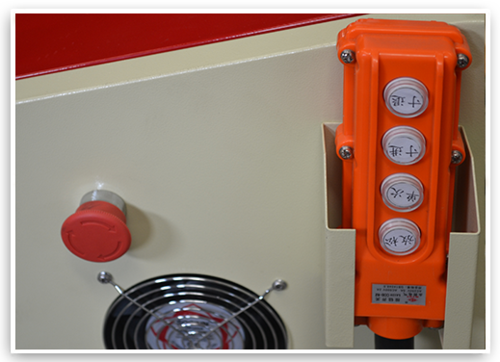 ·Control panel
1. HMI adopts Taiwan screen pass 7-inch hd screen, with uniform color and The human-machine interface adopts Taiwan screen pass 7-inch hd screen, with uniform color and exquisite picture quality. It is applied in most industrial environments with high reliability, and supports serial port and network communication synchronously
2. The switch adopts sliding contact, has self-cleaning function, normally open and normally closed contact adopts separate bonding structure, can work with different poles, equipped with anti-rotation positioning and stop loose mounting gasket
3. It adopts self-compound flat button button, which is light and light in strength and moderate in key range. The contact of the modular structure is made of ketone compound point, which has strong conductivity and large carrying current, and has a life span of 1 million times.
• Operating handle
1. The electric control box is equipped with an operation box, which is convenient for personnel transposition operation, time-saving, waterproof and dustproof, high material strength, good electrical conductivity and long service life.
2. The electric control box is separately set with emergency stop button, which is safe and reliable, and can effectively reduce the opening and closing of the electric control box, and effectively protect the operation panel.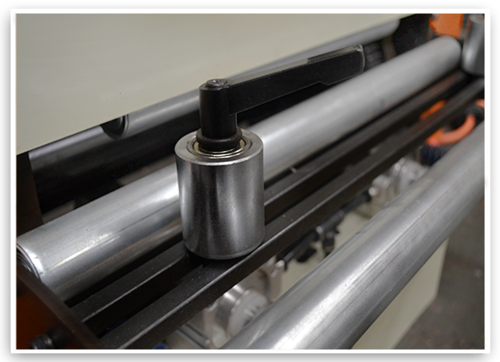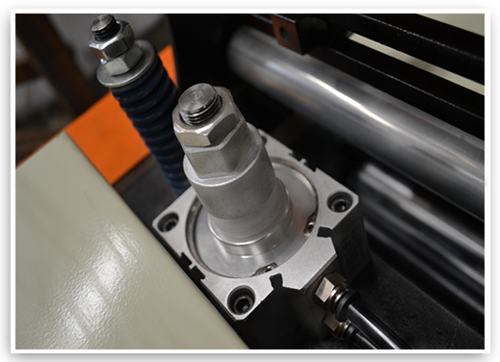 · Feed roller, block wheel
1. The feeding roller adopts the galvanizing roller without power, which is formed in one, and the surface is scratch-resistant and wear-resisting mechanical bearing, which is flexible in rotation and durable
2. Hard chrome plating on feeding wheel, hard chrome hardening HRC60, strong locking force on locking handle, convenient locking, smooth rolling of roller
·Feed cylinder
Using genuine yade polite cylinder, alloy cylinder body, hard oxidation, riveting no leakage, solid aluminum CNC precision machining, inner wall grinding smooth, non-clamping, high efficiency, high strength operation, durable, suitable for all kinds of working conditions.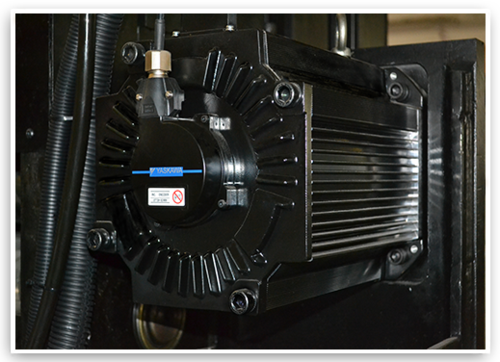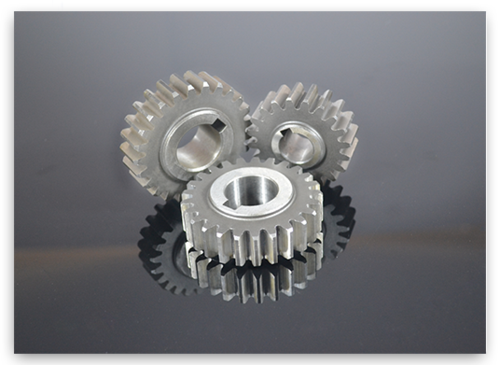 ·Servo Motor
Brands use yaskawa servo motor and drive (optional), improve equipment performance significantly, the maximum play to the device performance, problem solving, yaskawa motor original "no adjustment function" further deepen, without tedious tuning work, stable movement, can be used in harsh environment and energy saving, conform to safety standards, time limit for visualization.
·Transmission gear
Gear processing process includes the following processes: gear hair cultivation processing - tooth surface processing - heat treatment - tooth surface fine grinding. Maopei parts are mainly forgings. Through normalizing treatment, the machining type of maopei parts is improved to facilitate cutting .According to the gear design drawings, rough machining, and then semi-finishing, turning, rolling, gear shaping, so that the basic gear shape; After the heat treatment to improve the mechanical properties. According to the design requirements of the drawings, the final finishing, finishing the benchmark, finishing the tooth profile. After the above treatment, our gear grade can reach grade 6, high wear resistance, high strength, long service life.
Specifications
| | | | | |
| --- | --- | --- | --- | --- |
| Mode | NCF-200 | NCF-300 | NCF-400 | NCF-500 |
| Max.feeding width(mm) | 200 | 300 | 400 | 500 |
| Max.feeding length(mm) | 9999.99 | 9999.99 | 9999.99 | 9999.99 |
| Material thickness(mm) | 0.6-3.5 | 0.6-3.5 | 0.6-3.5 | 0.6-3.5 |
| Mould line height(mm) | 44-114 | 44-114 | 44-114 | 44-114 |
| Max.feeding speed(m/min) | 20 | 20 | 20 | 20 |
| Slacking style | Pneumatic | Pneumatic | Pneumatic | Pneumatic |
Configuration table
Model/ Specification

NCF-200

NCF-300

NCF-400

NCF-500

NCF-600

NCF-700

NCF-800

Motor model

MDMA1Kw

MDMA1.5Kw

MDMA2Kw

MDMA2Kw

MDMA2.5Kw

MDMA3Kw

MDMA3Kw

Drivers model

MDDDT3530

MDDDT5540

MDDDT7364

MDDDT7364

MDDDTA390

MDDDTA390

MDDDTA390

Slacking pneumatic pump

1 PCS(1pc)

1 PCS(1pc)

2 PCS(2pc)

2 PCS(2pc)

2 PCS(2pc)

2 PCS(2pc)

2 PCS(2pc)

Feeding capacity
(thickness X width)

2

200mm

300mm

400mm

500mm

600mm

700mm

800mm

2.5

180mm

280mm

380mm

380mm

460mm

480mm

480mm

3

150mm

220mm

300mm

300mm

380mm

450mm

450mm

3.5

120mm

180mm

250mm

250mm

320mm

380mm

380mm