NC servo feeder is the backbone of automatic stamping production line. There are several main reasons for its best-selling:high feeding accuracy,large feeding length,high degree of automation, easy debugging and operation, low failure rate and simple maintenance.Its advantages can be reflected in the operation and parameter setting. NC servo feeder adopts touch screen point control settings. Feeding length, feeding speed and feeding segment number only need to input setting parameters on the touch screen. And the rest of the function keys are concentrated on the control panel,which is simple and clear. What's more,the electronic control box is equipped with a control handle for easy debugging, which is very convenient to use.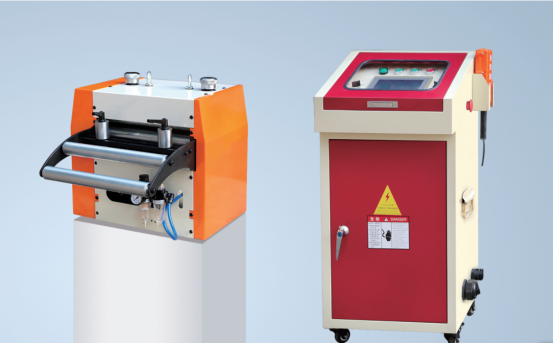 When the servo feeder reaches the preset feeding parameters, firstly, the punch will give the feeding signal to the feeder. Secondly, the PLC of the feeder will control the servo motor to run. Then, the servo motor drives the lower roller to rotate through the synchronous pulley. Finally, the lower roller drives the upper roller through the gear to complete the stepping feeding of the feeder.
When the servo feeder arrives at the preset relaxation time, the punch first gives the feeder a relaxation signal, and then the cylinder lifts the upper roller to make the upper roller relax completely.
Lihao Machinery adheres to the industry's high standards and use imported servo motors and electronic control components, so that the servo feeder can ensure the stability of different materials and the quality of products.
Large feeding step and multi-stage feeding are important factors for enterprises to choose NC feeder.NC servo feed step is 0-9999.99mm, which is incomparable with any other type of punch feeder.When replacing different dies and stamping processes,you just need to adjust the feeding height of NC servo feeder,then the original feeder can still be used,whichfundamentally meet the diversified production needs of customers to achieve a multi-purpose machine.
Low failure rate and easy maintenance are also the key points that customers pay special attention to.The roller of our feeder adopts imported bearing steel with heat treatment, hard chromium plating and fine grinding treatment, so it has high hardness and excellent wear resistance, And the main electrical components and buttons are all imported from Japan to ensure long-term, high strength and trouble-free use.In the case of failure, the control panel will display the location of the fault, so that the personnel can know the reason at the first time and solve it in time. This can ensure timely repair and normal production, improve production efficiency, and avoid unnecessary losses caused by failure.
If you encounter problems that can not be solved by yourself when using the equipment, you can call our professional staff to solve them for you at any time. If the phone fails to solve the problem, we will send personnel to the scene to deal with them.