SSP Type Precision Straightener (Width:0-1.6mm)
For different thickness material continuous punching use
Work together with uncoiler machine for automatic production
Can be customized
Product Description
Feature:
1. S-type high-speed leveling machine is the necessary equipment to achieve synchronization with the punch machine, it can control the delivery speed by inverter, material pass the buffer loop into the punch machine, it can control the machine condition stop or run or speed up, slow down, to achieve synchronization with the punching machine by commanding photoelectric switch.
2. This type of leveling machine is upgraded from the S type straightener, specifically designed for high-precision thin material products, it is well known that the volume is not flat and stress relief can not produce a good product, so the performance of the leveling machine plays a key role in production.
3. The leveling wheel is manufactured using imported SUJ2, heat-treated HRC60, rear grinding, and then hard-chrome grinding to ensure uniform and shape tolerances for each shaft.
4. The leveling adjustment of this machine uses a floating four-point balance fine-tuning device, which can quickly find the leveling point.
5. The full machine uses high-precision bearings to extend service life.
6. Due to the material, material width and thickness are different, there is no unified numerical reference. So it is recommended that take a small section of material to try before mass production , When it achieves the effect, then can started continuing production.
7. This machine sets transmission gear outside the body, it is convenient for oil lubrication and benefit to the operator's safety and effective protection.
Introduction: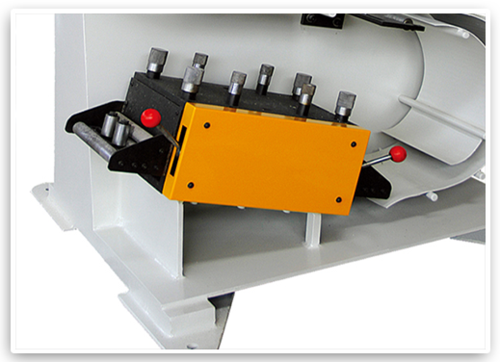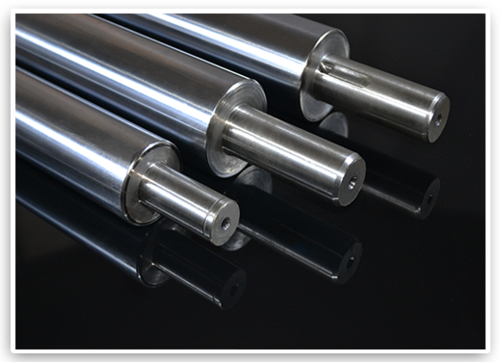 ·Leveling head
1. The head is designed with 15 parallel rollers (upper 7/down 8).
2. The use of four-point tuning, more suitable for processing high-precision products, input and output of the material by the pressure of four points 1 independent pressure adjustment feed wheel , can effectively prevent the material run-off and deformation.
3. Support rollers are with unpowered galvanized rollers, material sydtion, surface scratch-resistant, machine bearings, they are more flexible rotation and durable for usage.
4. Apply cast iron hand-wheel and surface plating treatment, it is the most traditional one of the hand-wheel.
5. The transmission part is protected with a protective shield on both sides with a window, it is easy for observation。
·Leveling wheels
1. Leveling wheels are made of solid bearing steel, medium frequency after thickening electroplating treatment, surface hardness is not low 1 At HRC58, the material is durable for use.
2. Applies GCr15 forged round steel, after preheating (balling annealing), followed by grinding, milling, 1 medium frequency treatment, coarse grinding cold stabilization, then fine grinding, and finally electroplating.
Maximum assurance 1 Accuracy, concentricity, finish and hardness, extendthed service life of corrective rollers。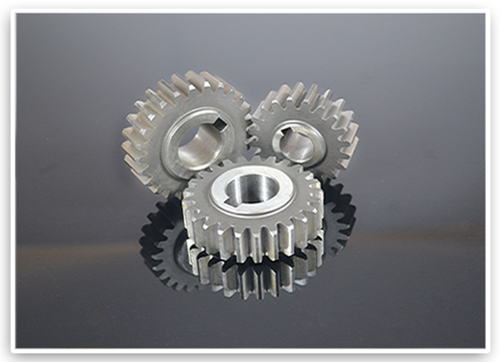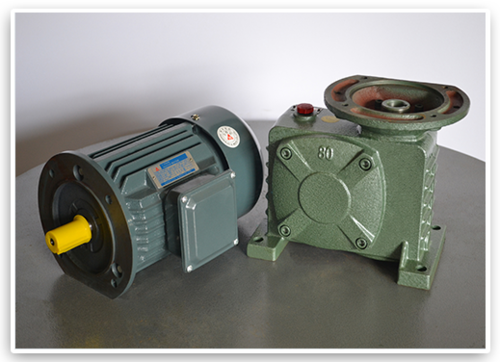 ·Drive gear
The gear processing process includes the following processes: gear grinding processing - tooth surface processing - heat treatment - tooth surface finishing. The hair cultivating parts are mainly made of forgings, which are processed by normalizing to improve the cutting processing type and easy to cut; according to the gear design drawings, roughing is performed, and then semi-finishing, car, rolling and gear shaping are performed to make the gears basically form; Heat treatment is then carried out to improve the mechanical properties. According to the design requirements of the drawings, the final finishing, finishing the benchmark, finishing the tooth type. After the above treatment, our gear grade can reach 6 grades, high wear resistance, high strength and long service life.
·Power section
1. Applying the 80-type worm worm vertical gearbox, the motor is used to convert the speed converter of the gears 1 (motor) swing number deceleration to the desired number of swings, and get a large torque of the mechanism。
2. Applying vertical motor, low vibration, low noise, fixed rotor part of the use of pure copper coil, life 1 life for the ordinary coil ten times, both ends are equipped with ball bearings, low friction, low temperature.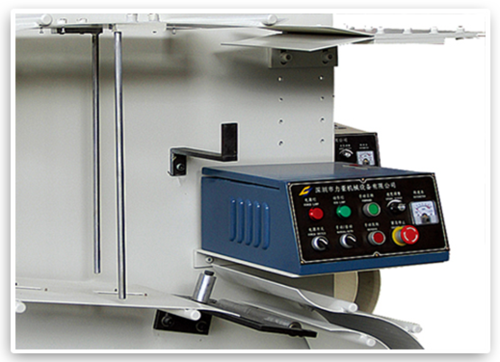 ·Electrical control box
1. Applies Silver alloy relay, all-copper coil, flame retardant safety base, long-lasting and durable。
2. Applies Safety-protected circuit delay relay, silver alloy contacts, multiple and degrees disks to meet different delay ranges.
3. Applies Switch with sliding contact, with self-cleaning function, often open and normally closed contact using points The structure of the opening edge, which can be worked at the edge, is equipped with anti-rotation positioning and anti-loose mounting gaskets.
4. Using self-duplex flat button, light force, moderate key stroke, building block combination structure The contact uses ketone-based composite point, which has a high conductive and high carrying current and has a life of 1 million times.
Parameter:
| | | | | |
| --- | --- | --- | --- | --- |
| Model | SSP-150 | SSP-200 | SSP-300 | SSP-400 |
| Max width(mm) | 150 | 200 | 300 | 400 |
| Thickness(mm) | 0-1.6 | 0-1.6 | 0-1.6 | 0-1.6 |
| Speed(m/min) | 60 | 60 | 60 | 60 |
| Motor(HP) | 2HP | 3HP | 3HP | 5HP |
| Speed adjust way | Φ24 | Φ24 | Φ24 | Φ24 |
| Dimention(mm) | 1060*1070*1320 | 1060*1120*1320 | 1060*1370*1320 | 1060*1470*1320 |