Automatic uncoiling machine MT series decoiler machine
Features
1. Suitable for all kinds of coil material feeding.
2. It can work together with straightener ,buyer can also choose non motive power style.
3. Customized Maximum load weight is 30T
4. Customized Maximum material is 1800mm.
Options device
1、Pressing arm
2、Hydraulic expansion
3、Hydraulic support feed device
4、Motor can be speed adjustable style
Product Description
Description:

Decoiler machine capacity ranging:Maximum load weight 30ton, Maximum width 1800mm
The design of our reels incorporates a unique "bearing tube" with dual cup and cone Timken bearings to the mandrel and a heavy duty cabinet base. Both motorized and pull-off type reels are available, depending on the application.
Single-end configurations are provided as standard, and Double-ended configurations can be provided to optimize production efficiency by lowering the coil changeover time. Most models are available as Traveling Reels that can be combined with automatic centering functions.

Custom engineering can be provided to meet any application demands.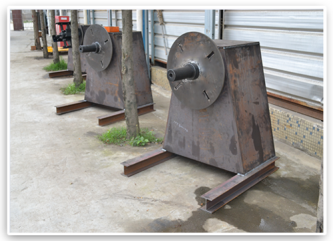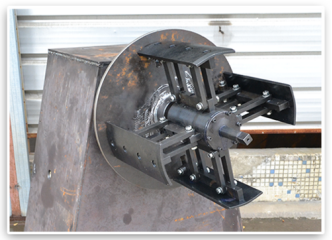 Rack section
1. The whole frame is welded design,adopt the second protection welder for welding, first vertical fillet welding, then flat fillet welding, weld first short weld, then long weld, ensure tight weld, improve quality.
2. All plates are cut by laser plasma with high precision.
3. All parts are processed by numerical control and CNC, good interchangeability of equipment.
4. The overall structure is simple, general technical workers can assemble and replace equipment parts, convenient and fast ,greatly reduce the maintenance cost.
Main shaft、tile part
1. The tiles are made of A3 material, after cutting ,flash processing.remiling tile bevel, bending, drilling and milling groove procedures.
2. The nuts needed to fix each part are all non-slip nuts to prevent them from failing off during operation and from damaging the machine or injuring people.
3. Spindle screw and screw sleeve are made of fine machining to ensure the smoothness of adjusting inner and outer diameter of the machine and avoid unnecessary machine stop for repairs.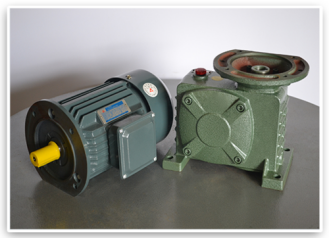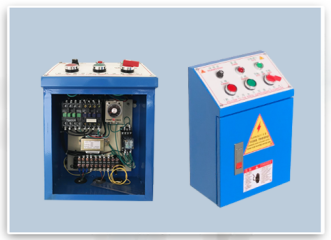 Power section
1. Adopt model 80 worm gear vertical reducer ,use the speed converter of gear , reduce the rotation number of motor to desired rotation number ,and get the mechanism with larger torque.
2. Adopt vertical motor, low vibration, low noise, fixed rotor part adopts pure copper coil, life is 10 times of ordinary coil, both ends are equipped with ball bearing ,low friction, low temperature.
Electric control box

1. Adopt silver alloy relay ,full copper coil ,flame retardant safety base, long lasting and durable.
2. Adopt safety protection adjustment circuit time delay ,silver alloy contact ,various and dial, satisfied different delay ranges.
3. The switch adopts sliding contact ,with self-cleaning function , normally open and normally closed contact adopts separate bonding structure, can work with different poles, equipped with anti-rotation positioning and stop loose mounting gasket.
4. Adopt self-duplex flat button, the force is light, the key range is moderate, the building block type combination structure. The contact is made up of keto-base composite points with strong conductivity and large current, with a life span of up to 1 million times.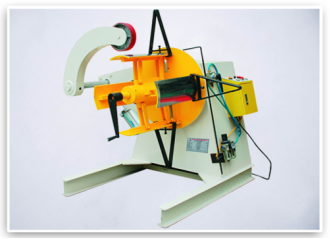 Non-standard custom one
1. The material width of the equipment can be made according to requirements,Maximum can reach 1800mm.
2. Decoiler inner diameter and outer diameter can be made according t requirements, maximum can reach 1500mm.
3. Pressing arm can be added to prevent material loose, and can also add frequency inverter to control speed.
4. It can add hydraulic station, used for hydraulic expansion, easy to operate.
Specification:
| | | | | |
| --- | --- | --- | --- | --- |
| Type | Material width (mm) | Coil.I.Dia (mm) | Coil.O.Dia (mm) | Coil Weight (kg) |
| MT-200 | 200 | 450-530 | 1200 | 500 |
| MT-300 | 300 | 450-530 | 1200 | 800 |
| MT-400 | 400 | 450-530 | 1200 | 1000 |
| MT-500 | 500 | 450-530 | 1200 | 1500 |
| MT-600 | 600 | 450-530 | 1200 | 2000 |
| MT-800 | 800 | 450-530 | 1200 | 2000 |
Standard Feature:
Motorized and Non-Motorized type of decoiler are available.
Line speed 16m/min
Loop touch stand
"A" frame coil keeper